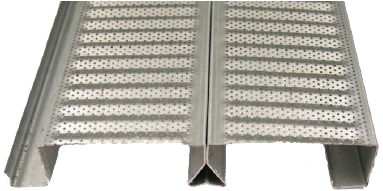 .050 perforations
Perfect for smaller seed crops like Canola. Available in 20 ga.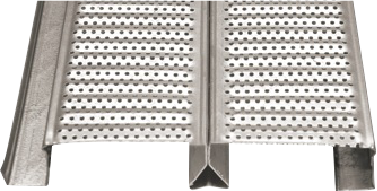 .094 perforations 
Perfect for larger crops like corn and sunflowers. Available in 20 ga.
Drying grain with aeration
In the areas where canola or other small seed crops are part of the rotation, the .050 is the most popular aeration floor for flat bottom bins. Their .050 flooring has 15.69% open area, 35% more open area than most competitors. The .094 floor is the perfect choice for cooling and drying corn, sunflowers and other larger seed crops. With larger holes, the .094 can blow a lot of hot air for a small price.
Minimizing aeration loss
Whether you have 10 feet or up to 100 feet of grain, ALL SIZE can support whatever you throw on them. If it's size and strength you want, the "TRUSS" floor system is for you. Made from G90 galvanized metal, the "TRUSS" system gives you superior strength with minimal aeration loss. The "TRUSS" is able to withstand up to 100 feet of grain. With strength like that, the "TRUSS" floor is a must for bins over 30 feet high, and can be an option for smaller bins for farmers who want a stronger floor. ALL SIZE manufactures a variety of grain aeration products as well as distribute perforated screens. ALL SIZE also chooses the best metal to put into their products. Their flooring systems are made from G90 (galvanized) metal for superior strength and corrosion resistance.